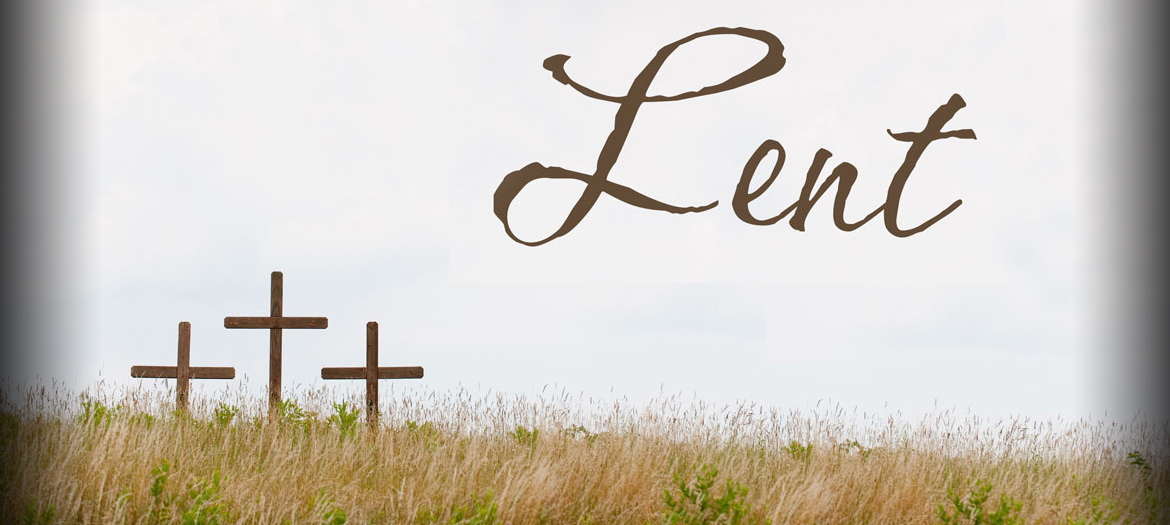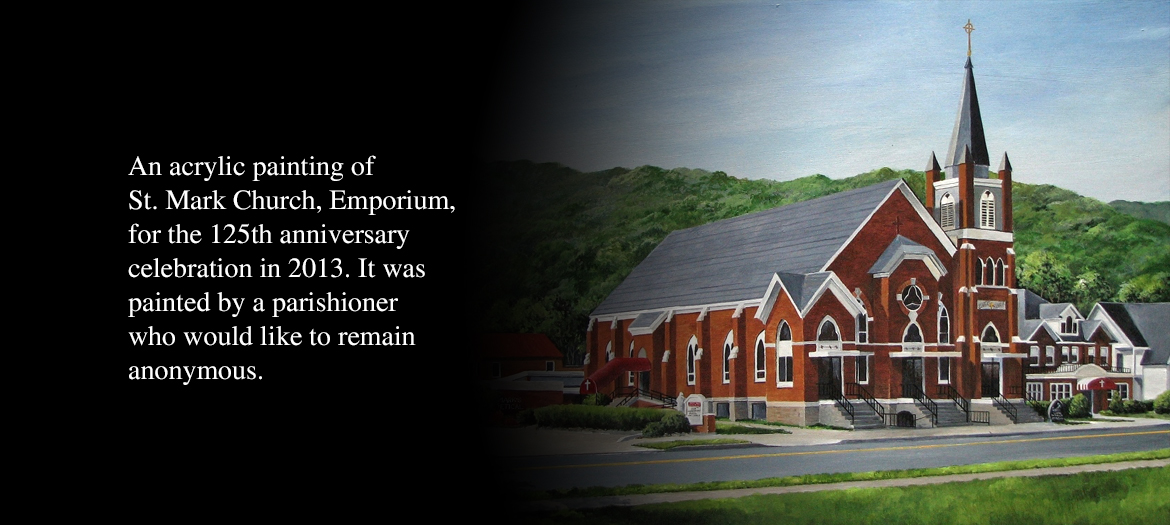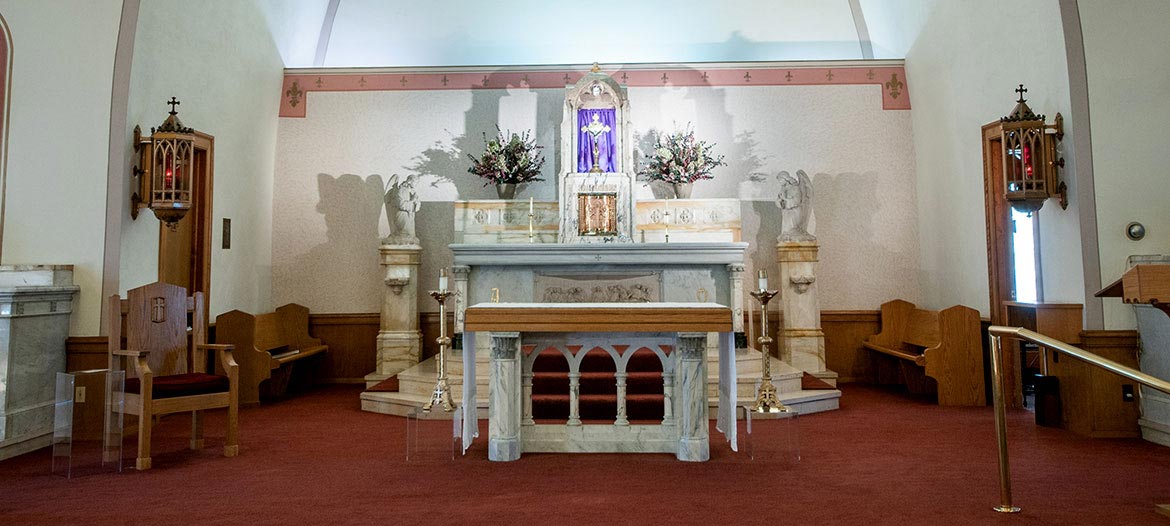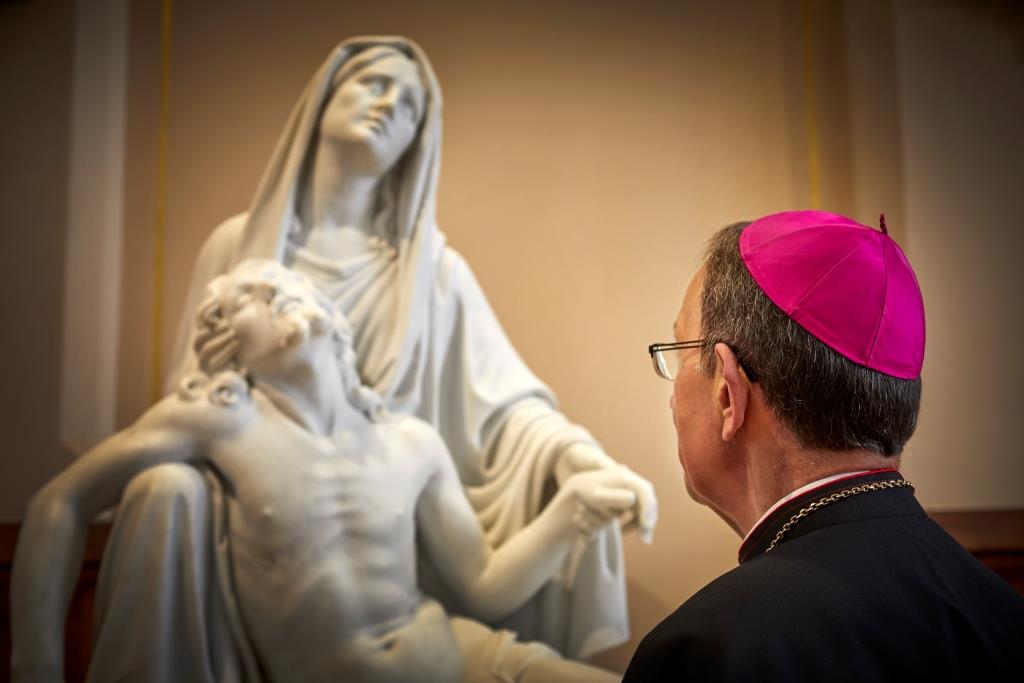 Welcome to St. Mark - St. James Parish
---
---
---
Blessed Palms will be available in the church starting at 6:30 pm Saturday night (4/4/2020)
and during the day Sunday (after 10:00 AM 4/5/2020). They will be placed on the pews, 6' apart.
Please follow current social distancing when entering the church.
Also, Palm Sunday mass will be Live Streamed on Saturday, April 4th at 4:30 PM and will be
replayed on Sunday April 5th @ 9:00 AM.


---
---
---
Due to new government restrictions on gatherings
and to comply with social distancing,
St. Mark will not have Holy Hour or Stations of the Cross
until further notice.

Confession can be requested by appointment by calling the rectory @ 486-0569 ext 105.


---
---
---
4.2.2020
In an effort to create a sense of unity and to help Christians observe some of the holiest days of the year appropriately while unable to attend church, the Diocese of Erie has launched #HolyWeekAtHome. The campaign begins by asking people to hang greens on their front doors on Sunday, April 5, in observance of Palm Sunday.
The ideas presented by the diocesan Office of Faith Formation can be accessed atwww.ErieRCD.org/HolyWeekAtHome.html. A door decoration, prayer, short video and activity are listed for each of the following days:
April 5, Palm Sunday April 9, Holy Thursday April 10, Good Friday April 11, Holy Saturday April 12, Easter Sunday.
The initiative grew from a social media posting by the Oregon-based Missionaries of the Holy Spirit, whose idea to hang branches on
- more -
Diocese of Erie launches #HolyWeekAtHome initiative
Includes publication of special, digital-only edition of Faith magazine available to alldoors to mark Palm Sunday has caught on across the country.
In addition, the diocese has published Celebrating the Easter Season at Home, the first digital- only edition of its flagship publication, Faith magazine. The publication can be viewed at www.ErieRCD.org. PDFs of individual articles featuring ideas ranging from a recipe for "Resurrection Rolls" to staying close to God and others during this time of isolation can be downloaded and shared from www.ErieRCD.org/inspiration.html.
The magazine also includes an Easter message from the Most Rev. Lawrence Persico, bishop of Erie.
Many pastors in the diocese are livestreaming Masses from their parishes each Sunday.
The Diocese of Erie will livestream Holy Week events with the bishop as follows:
Sunday, April 5, 11 a.m.: Palm Sunday Mass with Bishop Persico
Monday, April 6, 1 p.m.: Chrism Mass (holy oils for all parishes to use throughout the year will be blessed by Bishop Persico)
Wednesday, April 8, noon: Stations of the Cross devotion
Thursday, April 9, 7 p.m.: Friday, April 10, 3 p.m.: Sat, April 11, 8:30 p.m.:
Holy Thursday Mass with Bishop Persico Good Friday Service with Bishop Persico The Easter Vigil Mass with Bishop Persico
Events may be found on the diocesan Facebook page: www.facebook.com/eriercd or
on the diocesan website: www.ErieRCD.org/livestream.html
The campaign and livestreamed events are designed so that individuals and families can make Holy Week and the Easter season meaningful, given the fact that communities cannot gather to worship during the current pandemic.
For interviews about the initiative, please contact Anne-Marie Welsh at 814.746.6889
---
---
---
Be sure to watch our live-streaming of Masses on
Saturdays at 4:30 PM; Sundays at 9:00 AM
and daily mass at 8:15 AM
on our


Facebook

page,

St. Mark Catholic Church, Emporium....
just like

👍

our page to view,

AND you can find
the Masses on YOUTUBE.COM
at this link:

---
---
---
The Raising of Lazarus

Jesus is the resurrection and the life.
He is the God who "will put my spirit in you that you may live."
Our Lenten celebration must serve to remind us that the
PASCAL MYSTERY represesnts a victory over death.
Next week: Palm Sunday!
---
---
---


ONLINE OFFERTORY:
The Catholic Foundation has developed a page on its website dedicated to offertory giving. Every parish in our diocese is included on the drop-down menu. This is especially helpful to parishes that do not currently offer online giving, like
St. Mark/St. James. Donations given through this page, designated for each parish, will be distributed to parishes. No administrative fee from the foundation or diocese will be charged to parishes.
Please visit: www.cfnwpa.org and click on the COVID-19 tab.



---
---
---
---
---
---
BISHOP PERSICO SUSPENDS ALL PUBLIC MASSES UNTIL FURTHER NOTICE
03/17/2020
Dear Sisters and Brothers in Christ:
It saddens me to share this with you, but I have decided to suspend all public Masses in the Diocese of Erie effective Wednesday, March 18 until further notice.
This is not a decision I wanted to make; nor did I make it lightly. But given the challenges brought by the COVID-19 pandemic, it is an important decision made for the good of the community, especially the most vulnerable among us.
We are working to make a number of resources available for the faithful, some of which I will share with you in this letter. But first