Welcome to St. Mark Church
---
PARISH CEMETERY SERVICE
On Sunday, October 30th at 6:00pm at St. Mark Cemetery we will meet to honor and remember our family and friends who have passed away.  At this outdoor service, we light candles for our deceased loved ones and have a small prayer service followed by light refreshments. All age groups are welcome.
---
Below is the talk from Deacon Ken Reisenweber from Sunday, Oct. 9th at St. Mark Church on "Sacrificial Giving":
One of my most life changing experiences happened almost 30 years ago, the night that I learned about the practice of Sacrificial Giving. Sacrificial Giving is based on tithing, giving ten percent of all you receive financially back to God, in gratitude. But it also includes giving generously of time and talent as well. It is based in Holy Scripture.
In the book of Sirach, it is written "In generous spirit pay homage to the Lord, be not sparing of free will gifts. With each contribution show a cheerful countenance, and pay your tithes with a spirit of joy. Give to the Most High as He has given to you, generously, according to your means. For the Lord is one who always repays, and He will give back to you sevenfold."
In the book of Malachi it is written "Bring the whole tithe into the storehouse, that there maybe food in my house, and try me in this, says the Lord of Hosts. Shall I not open for you the floodgates of heaven, to pour down blessings upon you without measure."
In Leviticus we read "All tithes of the land, whether in grain from the field or in fruit from the trees, belong to the Lord as sacred to Him."
In DT 26:1-4, it is written "When you have come into the land which the Lord, your God, is giving you as a heritage, and have occupied it and settled in it, you shall take some first fruits of the various products of the soil which you harvest….and, putting them in a basket….you shall go to the priest….(who will) set it in front of the altar of the Lord, your God."  These words and others touched my heart in a very deep way. My wife and I were a single income household, with three children under 8 years old. We had tried to be generous in giving to the church and to other charities, giving about 3% of our income back to God. But this would now be at a whole new level. Our response to God had echoes of our Blessed Mother in it — Let it be done to us according to YOUR words. We began giving Sacrificial Giving ten days later, and have never stopped.
We had been actively involved at church, and that only continued all the more as time went on. For His part, God blessed our generosity and trust in Him.
Several years later, after we moved from Meadville to Erie to reduce my commute time, we found ourselves being tested. Our house in Meadville did not sell, and a few months later, my employer ran into financial problems, and closed shortly after that. Now we had two homes, two mortgages, and only an unemployment check to provide for our family of five. In our discussion about what to do, I said that if Sacrificial Giving were true when times were good, it is also true when things are bad. My wife Shirley agreed.
I will always remember letting go of the envelope in church the first time we gave our tithe on the unemployment check. To this day I recognize I was letting go of a whole lot more than just money.
Over time, by putting gratitude to God first, we had become less attached to money and what it could buy. The more important thing was thanking God, and recognizing that it is all HIS anyway. He gives it to us to use, not to keep. By giving the way we do, we imitate Him. That is what He calls all of us to do in all aspects of our lives — to walk WITH Him.
As life went on, we have been active in giving time and talent. I became actively involved in Cursillo. A friend from that introduced me to the works of Dr. Scott Hahn. That became my avenue to study scripture, and that ultimately brought me to being a deacon.
I did have another episode of a company failing and being unemployed, this time for a year. Fortunately by that time my wife returned to teaching. In being out of work for that long, the Lord taught me patience and it reinforced my trust that He would provide for us And He has provided abundantly. Like I referenced earlier, at no time did we ever waiver from our commitment to give generously, in imitation of Our Father.
I have come to realize that Sacrificial Giving is not a day to day, week to week or even year to year decision. It is a commitment to respond to God's generosity, and like the vows of commitment to marriage, are intended to be for life. I have adjusted the amount but never the percent of my giving as the circumstances of my life have ebbed and flowed. But I am committed to give to God the first and best fruits of which He has bestowed on my family.
Jesus told us "Give, and it will be given to you. Good measure, pressed down, shaken together, running over, will they pour into the fold of your garment. For the measure you measure with will be measured back to you."
The amount you give is your decision, but it is not a decision to be taken lightly. It is recommended that you pray about it, and if you're married, decide as a couple. No matter what you decide give to God with a spirit of joy.
My experience tells me that God will bless you in many ways for entrusting your time, talent and treasure to Him, even giving you strength when life deals you challenges.
Living Sacrificial Giving HAS changed my life, in so many ways, for the better. It has allowed me to draw closer to God, and I am confident that those blessings are available to you as well. May God bless you now and always with a generous and thankful heart.
Deacon Ken Reisenweber
---
The Rosary will be recited every weekday during October
at 4:15 pm in church


---

4th Annual St Mark/St James Festival

---
The Divine Mercy Message and Devotion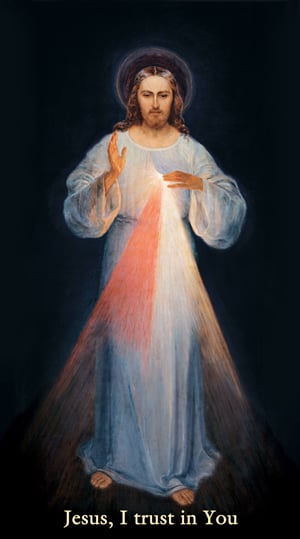 The message of The Divine Mercy is simple. It is that God loves us – all of us. And, he wants us to recognize that His mercy is greater than our sins, so that we will call upon Him with trust, receive His mercy, and let it flow through us to others. Thus, all will come to share His joy.
---
   Catholic Services Appeal  2016
"Be Lights of Hope" through giving – Pope Francis

---
The Year of Mercy

A jubilee year is a special year called by the church to receive blessing and pardon from God and remission of sins. "I am convinced that the whole church — that has much need to receive mercy because we are sinners — will find in this jubilee the joy to rediscover and render fruitful the mercy of God, with which we are all called to give consolation to every man and woman of our time," Pope Francis said in announcing the year. "Let us not forget that God pardons and God pardons always," the pope continued. "Let us never tire of asking for forgiveness." The pope also said he wants the church to live the upcoming holy year "in the light" of Jesus' words in the Gospel of Luke: "Be merciful, just as your father is merciful".
---
Mission Parish St. James
Rt. 120 Driftwood, PA
M I S S I O N   S T A T E M E N T
St. Mark and St.James Parish glorify and model the life of Jesus Christ on our spiritual journey to salvation bringing the community to greater holiness through participation in the sacramental life with a willingness to share time, talent, and treasure.
P A S T O R A L    V I S I O N
We at St. Mark/St. James glorify Jesus Christ as we..
Pursue full and active participation rather than presume regular faith practice of our members.
React to the changing conditions of the local Catholic Community.
Strive first and foremost for Spiritual renewal in every committee, organization, or activity.
Build belonging for the various age groups, personalities, genders, and states of life.
Invite the occasional and nominal back to their spiritual home.
Serve the needs of the greater community.